Construire une patinoire extérieure

C'est facile!
English
Tout d'abord, il ya beaucoup de façons de construire une patinoire extérieure, c'est facile, mais je vais détail pour vous la façon dont je bâtirai mon patinoire chaque saison. Il a vraiment bien travaillé pour moi!
D'autres m'ont dit que leurs méthodes ont abouti à une patinoire qui est difficile à maintenir et qu'ils ont toujours connu de nombreuses périodes pendant l'hiver où leur patinoire est inutilisable.

Certaines personnes ont effectivement renoncé à faire leur propre glace patinoires.

Nous? Notre famille a été en mesure de patiner en continu sur une surface de glace extrêmement lisse de la fin de Novembre droite jusqu'à la mi-Mars, chaque année.
Maintenant que vous avez trouvé mybackyardicerink.com, vous n'avez pas à renoncer à vos projets de patinoire! Je vais vous montrer ce qui fonctionne afin que vous puissiez réussir à faire votre propre patinoire extérieure à votre arrière-cour et profiter des années de patinage..
Les décisions les plus difficiles et importantes que vous devez faire sont:
Quel type de patinoire voulez-vous construire ou acheter?
Quelles sont les dimensions de la patinoire que vous voulez?
Allez-vous construire votre propre patinoire?
Will you use a plastic tarp or plastic liner?
Will you purchase a customized backyard rink?
Will you purchase a refrigerated rink?
Will you put up rink boards?
Allez-vous utiliser la Mère Nature pour geler la glace?
ÉTAPE 1: Décider qui cour arrière patinoire concept est idéal pour vous dans votre cour arrière?
Il existe 3 méthodes conceptuelles à considérer lors de la construction de patinoires extérieures:
Which Backyard Ice Rink Concept Is For You?
.
Si vous avez décidé de construire votre propre patinoire continuer avec les étapes suivantes ...
Construire une patinoire extérieure:
ÉTAPE 2: Concevez Votre Patinoire
Prenez le temps de concevoir (croquis) votre patinoire extérieure. Visitez cette page pour quelques idées à Ice Rink Design
Prendre des mesures de votre arrière-cour.
Décider de la forme et la taille de votre patinoire en observant votre arrière-cour.
Essayez d'éviter de choisir une zone avec trop de pente. Choisissez une région avec une surface aussi plate que possible.

Si votre cour arrière est trop incliné, vous voudrez peut-être au niveau de votre arrière-cour dans adcance. Décider de la forme et la taille de votre patinoire en observant votre arrière-cour.
Regardez autour de vous pour trouver tous les obstacles.

Quand j'ai installé mon propre première patinoire extérieure dans ma cour arrière, j'ai dû enlever mes pommiers, des cerisiers, pruniers et poiriers.
Je construis mon patinoire presque aussi grand que ma cour arrière permet.

La première fois que j'ai construit une patinoire, il mesure 32'x 16'.

Depuis lors, j'ai pu utiliser mon espace de cour arrière de manière plus efficace et mon arrière-cour patinoire est maintenant de 40 'x 32', tout simplement parfait pour le hockey.
ETAPE 3: Allez-vous utiliser un revêtement de patinoire en plastique ou en plastique bâche de patinoire?
You do not necessarily need a plastic liner or a plastic tarp.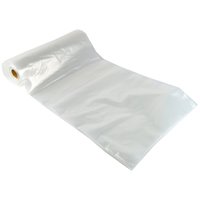 You can flood your rink without a liner or tarp and you will get good ice with just a little more work and as long as you get enough snow fall early enough, in your area.
However, placing a plastic liner or plastic tarp does save you a tremendous amount of time initially and it will further save you a lot of time in rink maintenance.
The liner holds the water and you can flood your rink as soon as the temperature permits with or without snow.
STEP 4: Will You Need Rink Boards?
You do not actually need rink boards in order to make your backyard skating rink. You can make a great outdoor ice rink surface to skate on without rink boards, but having rink boards makes it much much more fun for everyone, especially if you are planning to play hockey on your outdoor rink.
Rink Boards :
Contain the pucks! If you have only a snow perimeter, pucks get lost in the snow. Rink boards contain the pucks within the rink surface.
Playing backyard hockey is more fun!
Make the flooding of your rink much easier. The perimeter wall will contain the water.
Provide a place to store all your excess snow. You can easily move all your snow to behind the rink boards, keeping all the snow off the rink surface.
I do suggest you build your own ice rink with boards!
STEP 5: Buy Your Materials
We'll come back to this part a little later ...
STEP 6: Put Up Your Rink
I try to put up my rink structure before the cold winter weather kicks in. I usually put up my rink boards on the first weekend in November, right after Halloween.
Please take time to figure the type of rink you need before you attempt to build your own ice rink. It will make the project much easier and fun.
Whatever method you choose, having a backyard ice rink is very rewarding for the entire family.
Free Periodical mybackyardicerink Online Rink Magazine (E-zine)
---
Please subscribe to my online rink magazine, mybackyardicerink.

It tells you periodically about the new information that I have added.
mybackyardicerink Blog News Subscription
---

Please subscribe to mybackyardicerink Blog News.

This RSS feed is a small blog about backyard rinks (kind of an online journal), which will also let you know whenever any new or changed Web pages appear on mybackyardicerink.com.

mybackyardicerink.com Blog News keeps you up-to-date with other special postings and points out some of our special past topics that you might otherwise miss.

Return from Build Your Own Ice Rink to Home Page
New!

Comments

people have commented on this site so far...