"Nothing frames a hockey smile better than a handlebar moustache"
My Backyard Ice Rink Issue # 3 – December 2010
Let's talk hockey.
And by hockey, we mean NHL Movember Moustaches in 2010.
This fund-raising event wrapped up yesterday, and the jury is IN: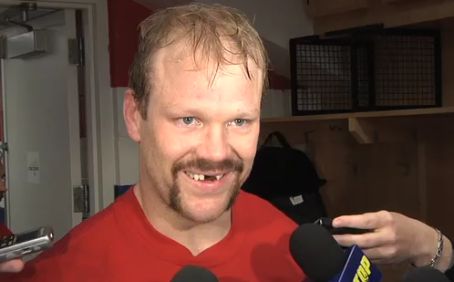 (Photo by Toni L. Sandys - TWP via Caps 365, courtesy of D.C. Sports Bog
In praise of John Erskine's mustache
Posted on November, 2010 on voices.washingtonpost.com: D.C. Sports Bog
John Erskine's moustache made the Top-10 list, probably because "nothing frames a hockey smile better than a handlebar mustache," said the writer of Yahoo's Puck Daddy, Greg Wyshynski.
In praise of John Erskine's mustache
Posted on November, 2010 on sports.yahoo.com: Puck Daddy
Two observations:
1) John Erskine of the Washington Capitals grew his 'stache for the 30 days of November (or Movember) to raise money for prostate cancer awareness. By growing 'mo'ustaches in November, players draw attention to cancers affecting men. The Movember Foundation is where you can go to donate to the cause.
2) Erskine is at the top of his hockey game - 2 goals and 2 assists in November alone. On the season he's got 3 goals and 3 assists total so far, his best season ever.
With those stats he oughta keep that 'stache!
Ice Rink and Hockey Rink Brackets
There's plenty of almost-cold weather still lingering in the USA and Canada. Which means there may be time for you to make or repair your hockey rink brackets and get your rink set up. Ice rink brackets are uncomplicated to construct. Just 4 boards, some wood screws, some elbow grease, and voila. Go to Build Rink Brackets for more information.

The brackets are important, because the water in your ice rink weighs a ton, and that might not even be a figure of speech. The boards around the perimeter of your rink need adequate support that will prevent them from crashing outward from the weight of the unfrozen water.

Do you want to purchase your hockey rink brackets? Since the rink brackets need to be spaced about every 4 feet, and if your planned rink is fairly large, your decision may hinge on a balancing act between time, money and expertise.

MyBackyardIcerink.Com fabricates the backyard ice rink brackets for you. And even better, using our brackets can chop your set up time in half! Learn more at MyBackyardIceRink.Com Rink Brackets
Don't we wish Hoses were Impervious to Cold!
The ice rink needs a minimum of 8 cm (3 in) of ice, and you'll probably want to fill the rink in layers. While waiting for one layer to freeze, don't forget about your hose!

More than one person has come back outside after the ice has frozen, steaming mug of hot chocolate in hand, only to find a frozen-solid hose!

Here are several ways to take care of your hose:
Between adding layers of ice, wind up your hose and stow it in the garage.
Or, allow a trickle of water run into the yard. The flowing water will likely keep the hose open. But put the hose on the bushes, not the ice, because the trickle of water will create a watery hole in the ice.
Or, before going inside for that hot chocolate, you could blow the water out of the hose with an air blower. The hose will freeze, but it will still be capable of carrying water when you get back outside.
Or, you could look into purchasing an electric heating cable for the hose.
Somerset House
(https://www.mybackyardicerink.com/somerset-house-rink.html)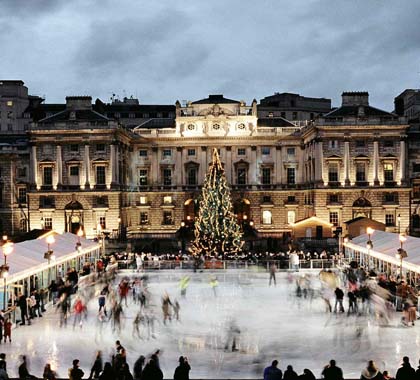 (Picture is courtesy of http://www.culture24.org.uk/places+to+go/art313647)
If you live in England or plan to travel there in December or early January, we wanted to let you know that Somerset House in London is hosting public ice skating until January 23, 2011. Click here to learn more and view even more pictures.
Do you have RECENT pictures of your backyard rink?
Did you get it set up in record time?
Has your weather been cooperating?
Have you pimped out your backyard ice rink, enhanced or enlarged it?
Are you an ice skater or a hockey rink rat?/LI>
What have been your favorite moments so far on your backyard ice?
Is your dog a goaltender?
We'd love to hear from you.

Send us a picture, tell us your story, or drop us a line with your comments and questions: Your Backyard Rink - for stories
Contact MyBackyardIcerink - for questions and comments.

Thanks!

Like this e-newsletter? Share My Ice with your friends!