mybackyardicerink.com Ezine Issue # 8 - May 2011
Canucks Tame the Blackhawks
With his one score in overtime, Alex Burrows of the Vancouver Canucks silenced Canucks critics, put his team into the quarterfinals of the 2011 Stanley Cup Playoffs, and reduced the risk of strokes in thousands of Canucks fans.

Assisted by Kevin Kesler, Alex Burrows of the Canucks drew first blood by scoring in the 3rd minute of the game. For the next 55 minutes, Vancouver and Roberto Luongo survived the determined attack of the Chicago Blackhawks.

Why does it never fail that the trailing team ties the game in the waning moments of regulation play?? With less than 2 minutes left, Jonathan Toews scored a shorthanded goal, bringing the score to 1-1.

The collective blood pressure of every Canuck fan surged upward by 100 points. The stadium was silently horrified for the next 1 minute and 55 seconds, as the Blackhawks tried their darndest to drive just one more puck into the net before the buzzer.

And no wonder. Before game 7, smack talk was sizzling all over the internet, with the consensus being that Vancouver was on the verge of a massive choke of epic proportions. Blackhawks fans were brutal in their dissing of the players, the goalies, and the coaches in Vancouver. Every fan in the stands was perhaps fearing the worst. After all, their team had squandered a 3-0 game advantage necessitating a game 7.

Blood pressures in Vancouver are back to normal once again...until tomorrow, when the Canucks tangle with the Predators.


Which is YOUR Birth-Month?

Did you realize that the month of your birth may play a factor in whether or not your dreams of NHL fame ever get realized?? According to Malcolm Gladwell in his book, Outliers, kids born in the months of January, February and March are far more likely to reach the NHL than their peers born in October through December.

There's nothing magical about the reason: "In Canada, the eligibility cutoff for age-class hockey is January 1. A boy who turns ten on January 2, then, could be playing alongside someone who doesn't turn ten until the end of the year - and at that age, in preadolescence, a twelve-month gap in age represents an enormous difference in physical maturity."

Gladwell continues by illustrating how it is the bigger and more coordinated boys who make the rep squads, and as a result, get a lot more coaching and ice time. "With the benefit of better coaching and all that extra practice under his belt, he really is better, so he's the one more likely to make it to the Major Junior A league, and from there into the big leagues."

Really??

Check it out in your own league. "In any elite group of hockey players, 40% of players are born between January and March, 30% between April and June, 20% between July and September, and 10% between October and December."

Gladwell's 'exhibit A' was the 2007 Medicine Hat Tigers. 14 out of the 25 players were born between January and March. That's 56%...!

What about this year's Canucks? There was no true correlation that we could discern, although it is true that the last three months of the year are somewhat underrepresented. Perhaps at some level a player's drive, practice time and true gift finally make a way for him.

But interestingly, the Blackhawks team DID exhibit correlation, though not as strongly as the Tigers:


| | | | | |
| --- | --- | --- | --- | --- |
| Months |     | No. of Players |     | Percent |
| Jan-Mar |     | 10 |     | 29% |
| April-Jun |     | 12 |     | 34% |
| Jul-Sep |     | 8 |     | 23% |
| Oct-Dec |     | 5 |     | 14% |

What do you think?

We have no idea what this says about the Canuck's chances of going all the way...!

Backyard Hockey

Hockey is a part of Canadian DNA, and backyard hockey is the force that unlocks that DNA. We think that backyard rinks are finding their way into plenty of US backyards as well.

We interviewed a very good hockey player recently, a youngster who fanned the flames of his NHL dreams for his entire school career, though in the end, he chose a different life's path. (Could his October birthdate have had anything to do with the outcomes???)

Read more at Backyard Hockey.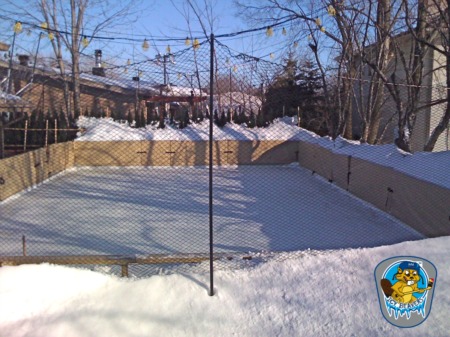 (Picture was posted to the mybackyardicerink.com Community by Beaver Den)
mybackyardicerink.com COMMUNITY!

We've opened the doors to an interactive backyard ice rink community forum.



community.mybackyardicerink.com



You will be able to:
Post photos of your backyard ice rink
Share your rink videos - building, skating, shooting, playing...
Join the current discussions in the forum (we know you have wisdom to share), or start your own topic
Respond to blog posts
Help and be helped - be a friend to others by offering tips and encouragement ... you'll get friendship back in return

The season is over ... but you can post your photos and videos of this winter in the Community! Join other skaters, hockey players and backyard ice rink builders who share your fascination with backyard rinks.

Go to http://community.mybackyardicerink.com and join in right now!

community.mybackyardIcerink.com is social backyard ice rink community that connects people with backyard rinks together. Features blogs, video & photo sharing.



See you there!




Opportunities for You to Share your Pictures and Stories
mybackyardicerink.com: Join our passionate community of dozens of backyard ice rink builders! Post your pictures, and get help for any problems you've had with your backyard ice rink. At the same time, you might be able to help someone else with their questions.