mybackyardicerink.com Issue # 10 - September 2011
Will the 1st Overall Draft Pick go to the Oilers 3 Years in a Row?
Edmonton Oilers finished in the basement in 2010. Consolation prize? 1st pick overall in the draft. They chose Taylor Hall, who has been no slouch on the ice, at least before he broke an ankle. He's mended now, so -- big hopes for the new season.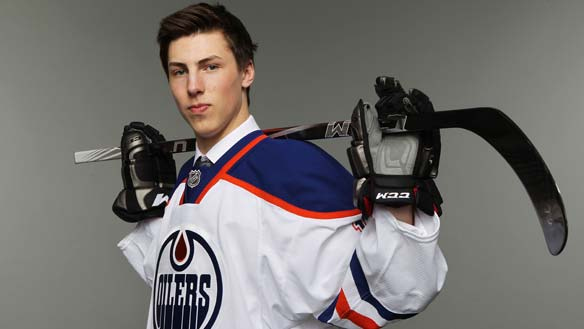 Edmonton Oilers finished in the basement in 2011.
Consolation prize? Another 1st draft pick overall. Here's our big welcome to Ryan Nugent-Hopkins, a skilled finesse player who knows how to score. As training camp progresses and the coaches will have an eagle eye on Nugent-Hopkins. Can he compete with the big guys in his rookie season, despite his lanky 6-0 and 171 pounds? It's entirely up to him to prove himself, say his coaches. God knows they need the help.

Word on the street says Edmonton as a team may improve only marginally over the next year, however kudos to management for laying the groundwork for an extremely competitive team in the not-so-distant future.

So how will the Oilers rank at the end of the season in 2012?
Keep your eyes on the players in the juniors - we're taking bets on who the Oilers should choose for their next 1st overall pick!

Heartbreak in Russia
Russian, Swedish, US, Czech, Canadian...all 44 people aboard the jet carrying members of the Lokomotiv Yaroslavl team died in a sudden shocking crash on September 7, 2011. According to news reports, personnel with connections to 10 different countries died. It was the deadliest blow to a professional hockey team ever.

Virtually every NHL team felt the loss personally, as many of the players who died had played throughout the NHL.

While we know our readers have seen the news stories, we at mybackyardicerink.com wanted to offer our condolences to all who lost friends, relatives and teammates.


Are you feeling Autumn's Nip?
It's mid-September already. The first snow flurries are just weeks away. Yet there's still time to decide this will be a great year for your own backyard hockey rink.

Yes? Great!

Ice hockey is invaluable in honing hockey skills. And sometimes kids DO grow up and reach the big league. Can you spot a 7-year-old Jonathan Toews skating in this short video?





Jonathan Toews has done pretty nicely for himself, thanks in part to home or neighborhood ice hockey rinks and lots of time skating.

mybackyardicerink.com is full of information and directions to help you make your own backyard rink easily, so you can enjoy an entire winter's worth of fun times on the ice.

If you don't have last year's boards behind the garage and lights tucked away in storage, then please stop by our mybackyardicerink.com Store. We're still putting stuff on the 'shelves', but some of the essentials are already available to you, for example full-size plastic rink liners. (No cutting and taping and fighting with leak...yay!)

Opportunities for You to Share your Pictures and Stories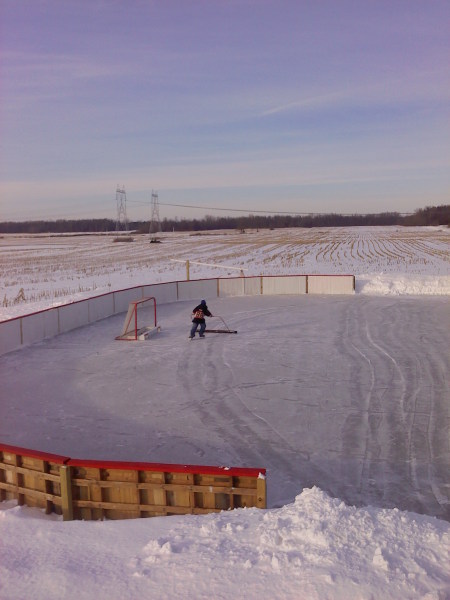 (Picture was posted to the mybackyardicerink.com Community by Chuck Lauer and shows his 3 year old son cleaning the ice surface...nice!)
mybackyardicerink.com Community:
Join our community of backyard ice rink builders! Post your triumphant pictures, and get help with solving the problems you had with last winter's backyard ice rink. At the same time, you might be able to help someone else with their questions.
Like this e-newsletter?
Let the world know about mybackyardicerink.com!
Additionally, you can now leave Facebook comments for others to read at the bottom of each page!
Lastly, forward this email to your friends!
Lots of cool ways to share mybackyardicerink.com Ezine with your friends.