My Backyard Ice Rink Issue # 4 - January 2011
Winter (Synthetic!) Wonderland
The town of Rockford, IL, has installed "the world's largest outdoor synthetic ice rink" at no cost to the taxpayers!
This is 12,000-square-feet of synthetic ice. Part of this footage is a 10 foot wide, 800 foot skating trail that circles the park.
How fun is that?!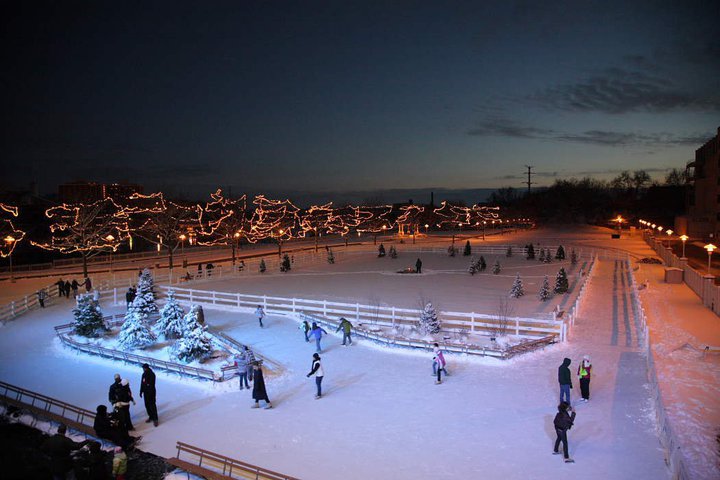 Harris Winter Wonderland will be open throughout the month of January. Hours are Tuesday evenings from 5:30 to 7:30 p.m., Fridays from 6:00 to 10:00 p.m.

Saturdays from 4:00 to 10:00 p.m. and Sundays from 2:00 to 6:00 p.m. Admission to skate is $3 and skate rental is $2.

Have little kids? They'll have a blast. Synthetic ice is easier to skate on for beginners - less falling on their behinds.

Might even be worth a bit of a drive to go check it out! And while there, you can snuggle with your spouse on heated seating and enjoy a snack from the concession stands. Good thing, because your kids (and maybe you yourself!) will be enthralled for hours.
Synthetic Ice Rinks
Synthetic ice rinks are sprouting up everywhere! Some 130 large synthetic ice rinks can be found worldwide. That's because the technology has advanced to the point that the synthetic surface is almost like ice.

In fact, you can even install a synthetic ice rink in your basement, garage or backyard. They can be small, medium or large, depending on your budget. And budget may be a factor, since your synthetic rink will cost around $9 to $20 per square foot.

Depending on your needs, however, a synthetic rink may be an essential tool rather than an extravagance. Professional figure skaters and hockey players need daily ice time for practicing. It is difficult to get more convenient than a home ice rink, even if it is synthetic.

We recently brought you nearly everything there is to know about synthetic ice rinks at My Backyard Ice Rink. Offering ALL the information you need in one place is a great starting point for your own research into the possibilities of synthetic ice at home.

Click on these links to learn more about:

Synthetic Ice Rinks
Introduction to synthetic ice, and new advances in technology that have nearly eliminated the problems with older types of synthetic ice.

Synthetic Ice
What is synthetic Ice? Seamless technology, and drawbacks to medium or low quality synthetic ice.

Synthetic Ice Rink
Which synthetic ice surface is best?

Synthetic Ice for Hockey
Advantages to synthetic ice, and playing hockey on a synthetic surface.

Synthetic Ice Information
Answers to Frequently Asked Questions about synthetic ice, including info on glide enhancers and using figure skates on synthetic ice.

By the way, small synthetic practice rinks are definitely an affordable possibility. Contact us for more information or for help planning your own synthetic ice rink.
Here is the PAYOFF for Hours and Hours of Hockey Practice!
The following YouTube video has already been seen over 213,000 times. Even if youíve already seen it, you might like to watch it again because it's so awesome! Click on the 'play' button, and watch goal after mind-boggling goal that will inspire you once again to get back out onto your home ice rink and keep on practicing...






NHL Hockey Player of the Week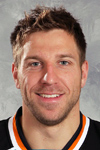 Hockey News' latest Player of the Week is Left Winger Ryane Clowe, who hails from Fermeuse, Newfoundland, and plays for the San Jose Sharks.

Ryane has been on a roll. During the week of December 6-12, in four games, he scored 4 goals and 5 assists. Thanks to his help, the Sharks won three of those four games.

Ryane's score card to date shows 9 goals and 22 assists. Looks like he can put himself in the right place at the right times!
My Backyard Ice Rink January Tip
Keep the snow shoveled off your backyard ice rink, without fail.

Why? Snow insulates the ice sheet underneath it, melting the ice. You can't skate on slush, and you canít skate on re-frozen slush, without a lot of re-surfacing.

Better to just keep the snow shoveled off the ice.
Like this e-newsletter?
Share My Backyard Ice Rink Ezine with your friends!
My Backyard Ice Rink E-zine Newsletter
Do you have RECENT pictures of your backyard rink?
We'd love to hear from you.

Send us a picture, tell us your story, or drop us a line with your comments and questions:
Your Backyard Rink - for stories
Contact MyBackyardIcerink - for questions and comments.

Thanks!