Synthetic Ice for Hockey
How do you practice and play hockey year around, even in summer? Continue paying daily entry fees, or - synthetic hockey ice for home use. Learn more about synthetic ice for hockey and how it may be your solution and bring years of enjoyment.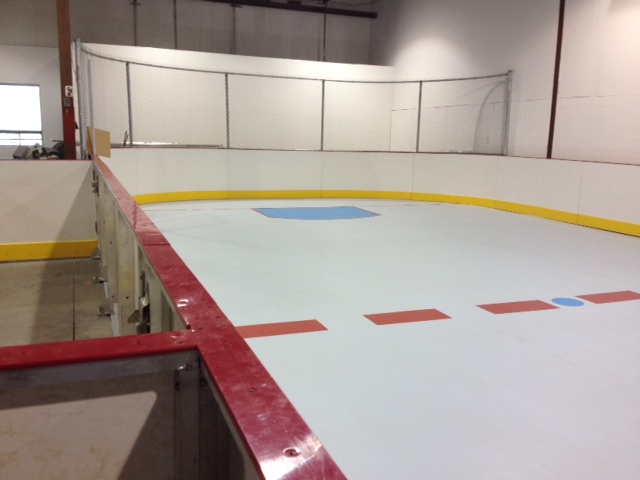 Synthetic ice surfaces have come a long way over the last 5-10 years. Even so, the glide on even the best synthetic surfaces is at best 95% equivalent to the glide of ice. This means that more effort is required to glide.
On the other hand, there are a lot of very compelling reasons why a serious hockey fan or student might start loving their synthetic ice for hockey:
Beginners learn to skate easier on synthetic ice because you don't slip as much. Once you're comfortable on the synthetic, the transition to real ice is very smooth.
The extra effort you expend building momentum actually intensifies your hockey practice. So as you get good on the synthetic ice, you'll suddenly become stellar on the refrigerated ice surface.
Now you can practice every day if you want to, for as many hours per day that your body can handle. No more driving for hours per week just going to and from the rink, not to mention the bankroll blown on entry charges.
All that training is bound to pay off - in more scoring, better puck handling, and impenetrable defense.
Perhaps the biggest reason for synthetic ice for hockey is the ability to skate every day, rain or shine, regardless of the temperature. Is your synthetic surface outdoors? No problem - wet is just fine. Indoors? Even better, because now you can laugh at the weather.
You can forget a lot of the bad rap you might have heard in the past about synthetic ice rinks. High quality synthetic ice for hockey surfaces are excellent, providing high density interlocking panels, and the newest ultra-density panels even have lubricating oils embedded directly into the polymer. Oil-embedding eliminates the need for glide enhancers!
Hockey on Synthetic Ice
If it is hockey you are practicing, synthetic ice is actually advantageous. As the quality of synthetic has improved, more hockey coaches and training facilities are now using synthetic ice for hockey along with the traditional refrigerated rink.
Each practice on synthetic ice is doubly effective, building endurance and strength at the same time your hockey skills are improving.
Synthetic ice for hockey doesn't perfectly mimic the smooth glide of blades on natural ice, but the synthetic surface these days is very close to the feel of ice:
The puck responds as typical for ice, sliding easily, so all hockey moves can be practiced.
If you practice it on natural ice, you can practice it on synthetic ice.
Synthetic ice intensifies any practice, because the slightly reduced glide as compared to ice requires more effort. When you play on real ice, you'll be that much stronger and accurate.
You'll need to sharpen your blades approximately twice as often as you do on real ice, especially if you are doing a lot of practicing and training. To offset this, you'll achieve a lot more muscle and core strengthening in less on-ice time.
The synthetic ice surface requires just a bit of minimal maintenance - weekly cleaning of the synthetic ice surface and applying glide enhancer as needed.
"No Brainer..."
...says Robert Jackson, who installed a synthetic ice for hockey practice rink in his home:
"My wife and I recently spent over $3,000 taking our son to a weekend tournament in Toronto. He played 4 games! We skipped the next tournament and bought a synthetic ice hockey practice rink instead for the same price!
He'll have that for 10 years. No brainer. Works great - best investment ever."
Check it out this synthetic hockey ice for yourself!
You can install a fairly small practice rink...
Videos and testimonial are presented by different manufacturers of synthetic ice rinks. We do not necessarily endorse any manufacturer as being more or less ideal than others.
---
---
Free Periodical mybackyardicerink
Online Rink Magazine (E-zine)

Please subscribe to my online rink magazine, mybackyardicerink.
Keep up to date with the latest information on My Backyard Ice Rink!

Like mybackyardicerink.com?
New!

Comments

people have commented on this site so far...