Build Rink Brackets
There are many different ways to build rink brackets.
There are also different types of materials such as wood, metal or plastic that you can use in order to make your outdoor rink brackets
You can also purchase rink brackets instead of making rink brackets yourself.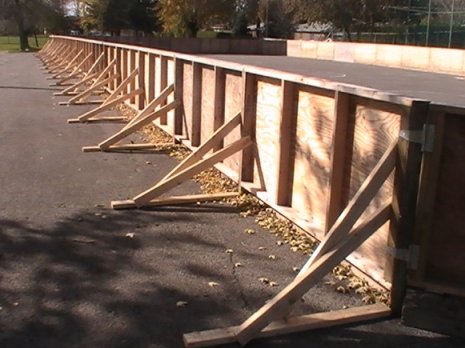 Making wooden rink brackets
The decisions you make will result in the type of boards you will end up having and your decision will depend on how much time you have, your budget, and the quality of the brackets you need. It will also depend on the space you have.
I decided to build rink brackets.
There are several different methods and materials you can use to build rink brackets of different types. I will also show you where to buy good quality, reliable, and easy-to-install rink brackets for your backyard ice rink.
Wood is a good material for making rink brackets for your outdoor skating rink. That's what I did, and I will know show you how I did it.

I will also add photos of my rink brackets very soon. You can see the final look of my rink & boards by going to the Liner Method page of my web site.
My Requirements For My Rink Brackets?
That is how I build rink brackets!
Free Periodical mybackyardicerink Online Rink Magazine (E-zine)
---
Please subscribe to my online rink magazine, mybackyardicerink.

It tells you periodically about the new information that I have added.
mybackyardicerink Blog News Subscription
---

Please subscribe to mybackyardicerink Blog News.

This RSS feed is a small blog about backyard rinks (kind of an online journal), which will also let you know whenever any new or changed Web pages appear on mybackyardicerink.com.

mybackyardicerink.com Blog News keeps you up-to-date with other special postings and points out some of our special past topics that you might otherwise miss.

Return from Build Rink Brackets to Home Page
New!

Comments

people have commented on this site so far...