Ice Rink Chillers
Imagine the dreaded springtime - temperatures steadily inching beyond 0 C (32 F), and the sun beating brightly on your home ice. For some folks, hockey season will melt away, except for the playoffs on TV.
But not for you! In your backyard, the ice rink chiller is humming quietly. Your rink ice is as solid as ever. And it will stay that way for another glorious month (maybe even two) of home ice time and additional hockey practice at all hours of the day and night.
No more mystery about setting up portable ice rink chillers and flexible tubing grids in your backyard rink. We offer ice rink chillers for ice rinks of many sizes.
Move over, Wayne Gretzky...
If your kids turn out to be as promising at hockey as you think they are, your refrigerated backyard hockey rink will have been the best thing that you, or they, could have ever hoped for!
Chiller - Ice Rink Refrigeration
A refrigerated ice rink utilizes an ice rink chiller that draws the heat out of the ice, ensuring it stays frozen despite temperatures rising well above freezing. Yet the chiller won't run if the ice sensor reads a temperature below its threshold of operation. (If needed, go to Refrigerated Backyard Rinks to bone up on how the chiller's refrigeration works.)
Mybackyardicerink.com offers high-quality, industrial-grade, low ambient ice rink chillers of various capacities for ice rinks of various sizes. We also supply the tubing system and the refrigerant as a complete package specifically designed for your situation.
This way you get the ice rink chiller and refrigeration set up that is right for your back yard.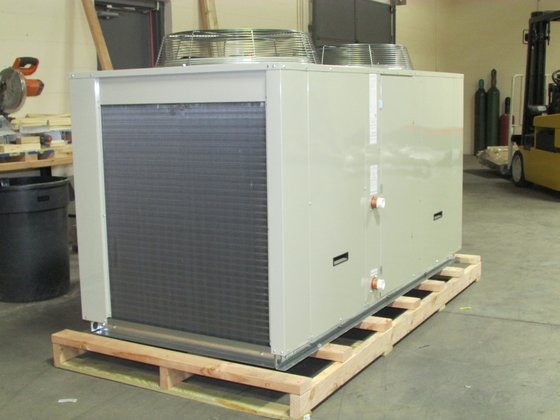 The size of the chiller depends on the size of your backyard ice rink.
A 4-ton ice rink chiller is about the smallest available. It is adequate for rinks up to 800 square feet (20' x 40')
10 tons is a common size chiller for ice rinks. A 10 ton chiller is adequate for up to 1800 square feet (say, 32' x 56')
Want an Olympic-sized hockey rink (100 feet by 200 feet)? Order yourself a massive 200 ton hockey rink chiller!
There are, of course, various other chiller sizes and we will build you a custom-sized chiller for your back yard ice rink.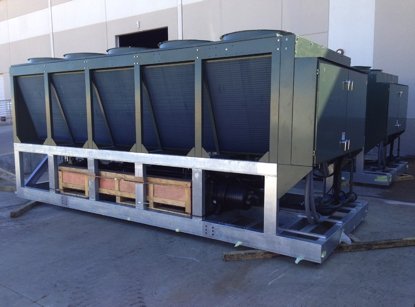 Portable vs. Non-portable: The Foundation

Refrigerated rinks can be embedded in concrete (non-portable).
However, many backyard ice rink refrigeration systems are completely portable, even to tubing that rolls up and stores easily for the summer, and a chiller in its own rolling trailer.
Portable systems can be amazingly simple to set up.
Depending on the underlying surface, say, a summertime tennis court, a bed of sand leveling an existing slope, or even your backyard lawn which is sufficiently level:
Set up the hockey rink boards and brackets
Lay down the rink lining
The tubing grids are 7 or 4 feet wide, with 1/2" tubes evenly spaced. Lay down, side-by-side, as many of these grids as you need, for the length of your ice rink.
Attach the heads of the grids to the header pipe.
Connect the header to the ice rink chiller with flexible piping.
The chiller can be up to 20 feet from the rink, however should be level, and on the same level as the ice surface
Charge the system with the refrigerant that is provided - either glycol or salt water
Cover the tubing grids with water
Once you've connected the chiller and primed the system, you can turn it on as soon as the water has frozen (for the most efficient operation). You'll still want to add a few more layers of ice, until you have a minimum of 3 inches (8 cm) at the highest area.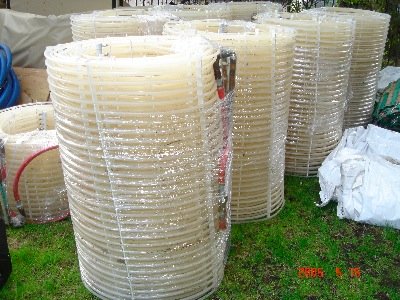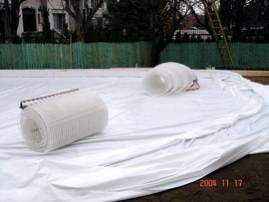 Come spring, just drain the water, roll up the tubing grids and toss them into storage, cover the chillers to keep debris out (or close the doors on the trailer), and you'll have your yard back, as nice as ever.
Thanks to the chiller, your ice rink can stay icy for up to 6 months of the year. Some chillers will maintain the rink ice in climates with temperatures up to 55 - 60 degrees Fahrenheit (12 - 15 degrees Celsius).
Skating all the way up to 70 degrees F (21 degrees C) is possible!...Insane isn't it?...Awesome!
Thinking About Installing Your Own Refrigerated Backyard Ice Rink?
The time to start making your plans is winter and springtime for the following winter! We get re-e-ally busy by the end of summer, and if you wait too long, you might not be able to install one by the early winter season.
Don't miss out for this season or for next season. Contact Us for more information about our ice rink chillers.

Free Periodical mybackyardicerink
Online Rink Magazine (E-zine)

Please subscribe to my online rink magazine, mybackyardicerink.
Keep up to date with the latest information on My Backyard Ice Rink!

Like mybackyardicerink.com?
New!

Comments

people have commented on this site so far...