Protective Hockey Rink Netting
I added a protective hockey rink netting to my backyard ice rink the winter following the season my son was able to take decent wrist shots.

As soon as the snow melted, both my neighbors were nice enough to pleasantly return a little over 60 pucks to me. They did not say anything, but I felt a little uncomfortable. I remember thinking that my son and his friends would definitely be much stronger and better next winter, so I needed to protect the hockey spectators (neighbors) with protective hockey rink netting. I needed to make sure all those pucks didn't end up in my neighbor's yards.





Click here to purchase mybackyardicerink.com's
DISCOUNTED
PROTECTIVE HOCKEY RINK NETTING Any size available!

DESIGN YOUR OWN SIZE AND SHAPE!

1-888-927-3423
TOLL FREE
USA & Canada

MYBACKYARDICERINK has many types of excellent high-quality protective hockey rink netting, available with many options and colors such as black, white, monofilament, kevlar, with or without eyelets.

To have you own hockey rink nettng designed and manufactured, please visit our online store.

1-888-927-3423
TOLL FREE
USA & Canada

We can customize them to your exact requirements. Please send me your postal or zip code when asking for customized pricing.

We offer netting got outdoor and indoor use and to stop fast-flying hockey pucks.

They last forever!

Netting types, sizes and options:



1.50" or 1.75" or 3.00" square mesh
braided polyethylene
black color available
contoured border all around with twisted rope
Four (one at each end) 24" loose rope ends
all treated U.V. resistant

Available sizes:



Any custom size available!
20' x 12'
25 'x 9'
30' x 10'
40' x 10'

Let me know if you are interested in outdoor hockey rink protective netting.

Please send me your postal or zip code when asking for customized pricing.

1-888-927-3423
TOLL FREE
USA & Canada
Protective netting is a little expensive but well worth the investment. My son and friends can now take as many wrist shots and slap shots as they want and as high and as hard as they want!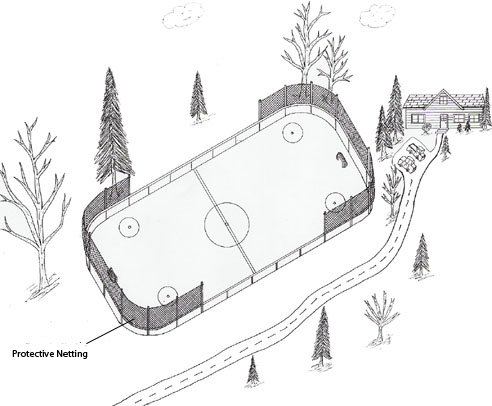 Arena Netting
During the summer I customized my own protective hockey rink netting to fit my ice rink, as in the drawing above, in order to meet my exact specifications.
If anyone needs to make their own customized protective hockey rink netting to fit their rink, send me an e-mail and I will be more than happy to help out.
---


"Hey John, just wanted to thank you for the great product!! Ice is frozen and my kid is ringing pucks off of the cross bar!! Enjoy the pic!!"
by Dr. Lorne Levy
Toronto, Ontario Canada
---
I attached my hockey netting to 12 foot, 2' x 4's at each end of my rink behind our hockey goal nets running alongside the rink boards.
Even though we have very good neighbors who have never complained, I do feel much better knowing that I am in no way disturbing my neighbors or their property by using the protective hockey netting.
Visit our rink liner and a rink tarp pages.
Free Periodical mybackyardicerink Online Rink Magazine (E-zine)
---
Please subscribe to my online rink magazine, mybackyardicerink.

It tells you periodically about the new information that I have added.
mybackyardicerink Blog News Subscription
---

Please subscribe to mybackyardicerink Blog News.

This RSS feed is a small blog about backyard rinks (kind of an online journal), which will also let you know whenever any new or changed Web pages appear on mybackyardicerink.com.

mybackyardicerink.com Blog News keeps you up-to-date with other special postings and points out some of our special past topics that you might otherwise miss.

Return from Protective Hockey Rink Netting to Home Page
New!

Comments

people have commented on this site so far...