Filets protecteurs pour patinoire de hockey
J'ai ajouté des filets protecteurs pour patinoire de hockey à ma patinoire maison dès l'hiver qui a suivi la saison durant laquelle mon fils a appris à faire correctement des tirs du poignet.
Dès que la neige a fondu cette année-là, mes voisins ont eu la bonté de venir me rendre une bonne soixantaine de rondelles de hockeys.

TIls n'ont pas fait de commentaires, mais je n'étais pas à l'aise, évidemment. Je me souviens avoir pensé : 'mon fils et ses amis seront des joueurs encore plus puissants l'année prochaine et il faut vraiment que je protège les spectateurs (et les voisins!) en installant des filets protecteurs. J'ai besoin de m'assurer que toutes ces rondelles ne finissent plus dans la cour du voisin.'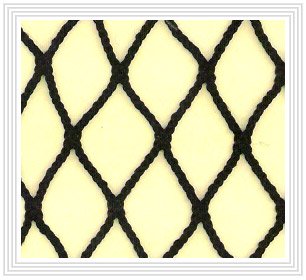 Vue rapprochée du filet de protection

Les filets protecteurs sont un peu dispendieux mais valent vraiment l'investissement. Mon fils et ses amis peuvent dorénavant faire autant de tirs du poignet et de lancer-frappés qu'ils le désirent, et faire des tirs aussi puissants et aussi hauts qu'ils le veulent!

"Hé John, je tenais à te remercier pour ton produit! Fantastique! La glace est prête et mon fiston fait résonner la barre transversale avec la rondelle!! J'espère que la photo te fera plaisir!!"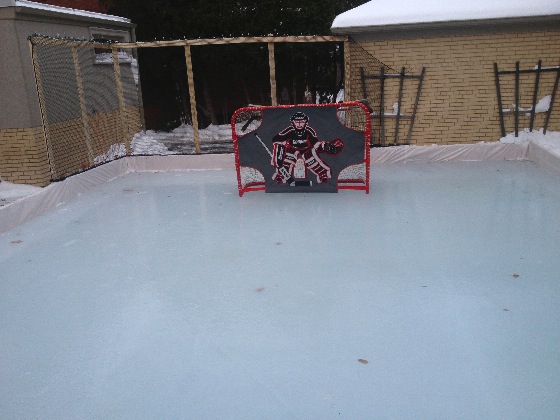 ~ Dr. Lorne Levy
Toronto, Ontario Canada
MBI a un excellent filet de protection pour patinoire de hockey de haute qualité.
Nous proposons des filets pour une utilisation extérieure et intérieure et pour arrêter les rondelles de hockey qui volent rapidement. Ils durent pour toujours!
Notre filet est disponible avec de nombreuses couleurs et options telles que:
noir, blanc, monofilament, kevlar et avec ou sans œillets
Types, tailles et options de filet :
Maille carrée de 1,50 "ou 1,75" ou 3,00 " polyéthylène tressé

polyéthylène

tressé

couleur noire disponible

bordure profilée tout autour avec corde torsadée

quatre (un à chaque extrémité) extrémités de corde libre de 24 "

tous traités U.V. résistant
20' x 12'
25 'x 9'
30' x 10'
40' x 10'

Tailles Personnalisées
Nous pouvons personnaliser votre réseau selon vos besoins précis. Contactez-nous pour faire concevoir et fabriquer votre propre filet de patinoire.
---
Store:
shop.mybackyardicerink.com
Email:
info@mybackyardicerink.com

Phone:
1-888-927-3423
Toll Free: USA/Canada
*Assurez-vous d'inclure le code postal ou postal lors de la rédaction des prix.
Tout au long de l'été, je prends le temps decréer, sur mesure, des filets protecteurs de patinoire de hockey qui ont la taille spécifique de ma patinoire, comme le croquis l'illustre, afin d'avoir un résultat personnalisé qui aille à ma patinoire comme un gant.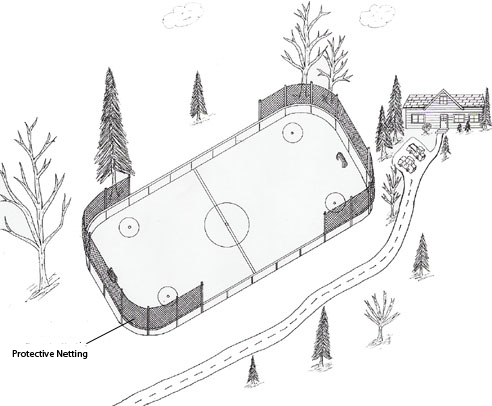 Filets protecteurs pour aréna de hockey
J'ai suspendu mes filets protecteurs de hockey à des 2' par 4's de 12 pieds positionnés à chaque extrémité de ma patinoire, derrière le filet de but, tout le long des bandes de patinoire.
Même si nos très aimables voisins ne se sont jamais plaints, cela me rassure énormément de savoir que, maintenant que nous avons des filets protecteurs, je ne les dérange plus et que les matchs de hockey sur notre patinoire ne posent plus de risques à leur terrain.
Si quelqu'un a besoin de fabriquer son propre filet de protection pour patinoire de hockey adapté à sa patinoire, envoyez-moi un courriel et je serai plus qu'heureux de vous aider.
Les pages pellicules de patinoire and a bâches de patinoire peuvent aussi vous être utiles.
Free Periodical mybackyardicerink
Online Rink Magazine (E-zine)

Please subscribe to my online rink magazine, mybackyardicerink.
Keep up to date with the latest information on My Backyard Ice Rink!

Like mybackyardicerink.com?
New!

Comments

people have commented on this site so far...