Filets protecteurs pour patinoire de hockey
J'ai ajouté des filets protecteurs pour patinoire de hockey à ma patinoire maison dès l'hiver qui a suivi la saison durant laquelle mon fils a appris à faire correctement des tirs du poignet.

Dès que la neige a fondu cette année-là, mes voisins ont eu la bonté de venir me rendre une bonne soixantaine de rondelles de hockeys. TIls n'ont pas fait de commentaires, mais je n'étais pas à l'aise, évidemment. Je me souviens avoir pensé : 'mon fils et ses amis seront des joueurs encore plus puissants l'année prochaine et il faut vraiment que je protège les spectateursspectateurs (et les voisins!) en installant des filets protecteurs. J'ai besoin de m'assurer que toutes ces rondelles ne finissent plus dans la cour du voisin.'





Cliquez ici pour vous procurer À
PRIX RÉDUIT des FILETS
PROTECTEURS POUR PATINOIRE DE HOCKEY sur
www.mybackyardicerink.com 20' x 8' F-01 pour seulement $79.00 25' x 9' N-150 pour seulement $98.00 30' x 10' N-175 pour seulement $195.00 Toute dimension disponible!

CONCEVOISZ VOTRE PROPRE FILET DE HOCKEY-
INCLUANT LA TAILLE ET LA FORME!

MBI has excellent high-quality protective hockey rink netting.

These are designed to be used outdoors to stop hockey pucks.

They last forever!



1.50" or 1.75" or 3.00" square mesh
braided polyethylene
black color available
contoured border all around with twisted rope
Four (one at each end) 24" loose rope ends
all treated U.V. resistant

Available size:



20' x 12'
25 'x 9'
30' x 10'
40' x 10'
Any custom size available!

Let me know if you are interested in outdoor hockey rink protective netting.

Please send me your postal or zip code when asking for pricing.

1-888-YARD-ICE (927-3423)
Les filets protecteurs sont un peu dispendieux mais valent vraiment l'investissement. Mon fils et ses amis peuvent dorénavant faire autant de tirs du poignet et de lancer-frappés qu'ils le désirent, et faire des tirs aussi puissants et aussi hauts qu'ils le veulent!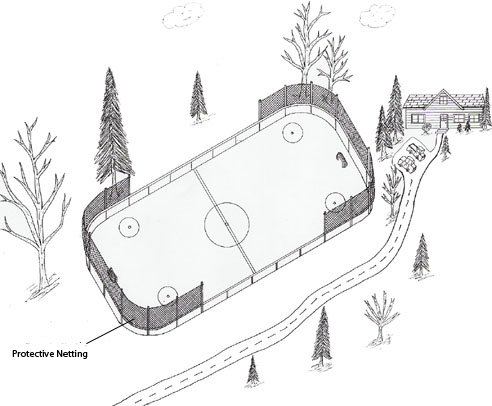 Filets protecteurs pour aréna de hockey
Tout au long de l'été, je prends le temps decréer, sur mesure, des filets protecteurs de patinoire de hockey qui ont la taille spécifique de ma patinoire, comme le croquis l'illustre, afin d'avoir un résultat personnalisé qui aille à ma patinoire comme un gant.
Si l'un d'entre vous se trouve dans la même situation et désire créer des filets protecteurs de patinoire de hockey sur mesure, afin qu'ils aient la taille exacte de votre patinoire maison, contactez-moi par courriel et je serai ravi de vous aider
---


"Hé John, je tenais à te remercier pour ton produit! Fantastique! La glace est prête et mon fiston fait résonner la barre transversale avec la rondelle!! J'espère que la photo te fera plaisir!!"
de Dr. Lorne Levy
Toronto, Ontario Canada
---
J'ai suspendu mes filets protecteurs de hockey à des 2' par 4's de 12 pieds positionnés à chaque extrémité de ma patinoire, derrière le filet de but, tout le long des bandes de patinoire.
>Même si nos très aimables voisins ne se sont jamais plaints, cela me rassure énormément de savoir que, maintenant que nous avons des filets protecteurs, je ne les dérange plus et que les matchs de hockey sur notre patinoire ne posent plus de risques à leur terrain
Les pages pellicules de patinoire and a bâches de patinoire peuvent aussi vous être utiles.
Free Periodical mybackyardicerink Online Rink Magazine (E-zine)
---
Please subscribe to my online rink magazine, mybackyardicerink.

It tells you periodically about the new information that I have added.
mybackyardicerink Blog News Subscription
---

Please subscribe to mybackyardicerink Blog News.

This RSS feed is a small blog about backyard rinks (kind of an online journal), which will also let you know whenever any new or changed Web pages appear on mybackyardicerink.com.

mybackyardicerink.com Blog News keeps you up-to-date with other special postings and points out some of our special past topics that you might otherwise miss.

Revenir de Filets Protecteurs Pour Patinoire de Hockey à Ma Page d'Acceueil
New!

Comments

people have commented on this site so far...