Backyard Ice Rinks Liner Method
The Backyard Ice Rinks Liner Method is how I make my backyard ice rink.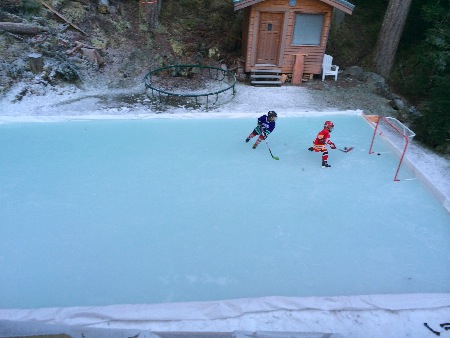 I recommend making a backyard ice rink using a plastic ice rink liner OR a rink tarp, especially if you live in a region where the climate gets mild temperatures often during the winter.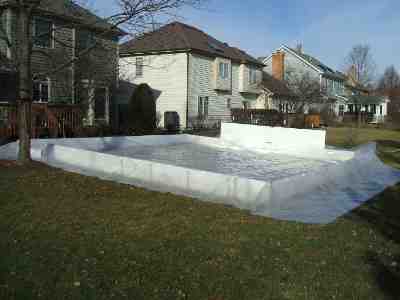 As you can see in the photo above of a backyard ice rink, the plastic rink liner is placed directly on the grass and up and around the rink boards. Making ice with ice rink liners is very easy and it produces an incredibly smooth and flat ice surface in a very short time.
I'd like to assure potential rink builders that using a plastic rink liner on your grass will absolutely in NO way ruin your beautiful grass!
I have been making my own rink on my grass every year for many years, using a 5 mil plastic liner on the same area for most of those years and my grass is still beautiful!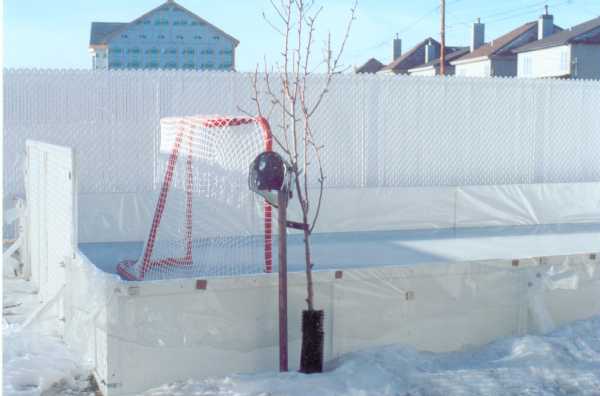 At first, I worried about my grass, but I took the risk and to my surprise, by spring, the grass underneath my liner got GREENER earlier.
The fact is -- the plastic liner actually traps heat and sunlight as the temperatures rise, which creates a greenhouse effect.
The grass outside the perimeter of my rink "greened" normally and actually had to catch up to the grass inside th perimeter of my boards, so please rest assured that your grass will not be in any trouble when using Backyard Ice Rinks Liner Method!
I always buy a one piece plastic 5 or 6 mil clear or white liner that is the right size for my backyard rink. This method works great for me. The liner is reasonably priced and saves me lots of time and trouble.
With the Backyard Ice Rinks Liner Method there is no need to pack snow in order to make a base.
When the temperature drops to -10 degrees Celsius and you can forecast approximately the same temperature for at least 3 consecutive days, you just flood with water and let it freeze!
Using the Backyard Ice Rinks Liner Method, I assure you that in only a couple of days it will be ready to skate on!
Free Periodical mybackyardicerink
Online Rink Magazine (E-zine)

Please subscribe to my online rink magazine, mybackyardicerink.
Keep up to date with the latest information on My Backyard Ice Rink!

Like mybackyardicerink.com?
New!

Comments

people have commented on this site so far...