mybackyardicerink.com Issue # 14 - March 2012
One Diehard Hockey Fan
Before she found fame and fortune as a singer, at age 10 she was skating circles around the boys on her Pee Wee Hockey team.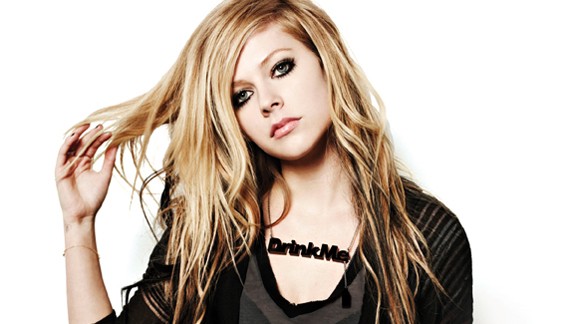 (Photo is courtesy of RCA)
She earned MVP two years in a row playing right wing.

If a boy ever punched her, the gloves came OFF and the blows rained down.

She had a penchant for getting into fights with goalies.

She played girls ice hockey and baseball through high school.

She is Avril Lavigne, and she arrived in the Big Leagues, in music that is. Her focus on sports evaporated the minute she got a recording contract at age 16.

She's come a long way from her native Napanee, Ontario, where "everyone plays hockey."

There's still a little hockey flowing in her veins. When on tour, she packs rollerblades into her bags and plays street hockey, most frequently with her brother. That's because "people in Los Angeles aren't as into hockey." Not to mention that temps in LA rarely drop below 50 F....

Read more from ESPN's interview of April Lavigne:
http://espn.go.com/blog/high-school/girl/post/_/id/1054/avril-lavigne-recalls-life-as-a-hockey-star

Rideau Canal
Not many other places other than the Rideau Canal can you skate 7.8 km (4.8 miles) in one direction.

The Rideau Canal was built in the 1830s. It connects Ottawa, Ontario on the Ottawa River to the city of Kingston, Ontario on the shores of Lake Ontario. A series of 45 locks manages the water levels in the Canal.

In the winter, the Rideau Canal gains another distinction once it freezes over - the world's largest skating rink. That's when the city of Ottawa opens a 7.8 kilometer section Rideau Canal, also known as the Skateway, to ice skaters.

Winterlude:

For three weekends every winter, the Skateway is jam-packed with people. That is thanks to the Winterlude Festival, also known as 'Bal de neige' to the Quebecois. The Winterlude Festival features public skating across the Skateway, ice sculpture competitions, musical concerts, a huge ice playground, and lots of various events around Ottawa. It is a whole ton of fun.

The Winterlude Festival draws hundreds of thousands of visitors every February. In 2012, Winterlude is scheduled for February 3 - 20.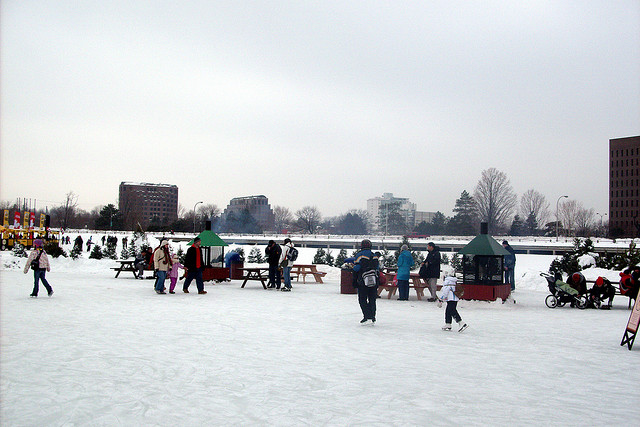 (Photo of Winterlude is Published on Flickr by 'mathewingram'

Whether you visit during the festival, or simply skate the miles of ice in a greater degree of solitude, the Rideau Canal Skateway experience is sure to be a rewarding one.

If you are lucky enough to get a chance, take your buddies, family or neighborhood hockey team, and skate till you drop on the Rideau Canal.


Arena Netting
Since 2002, NHL hockey arenas have installed arena netting in each arena to prevent stray pucks from resulting in freak accidents with potential lethal consequences.

Arena netting might be a good thing for your own backyard ice rink. It could protect your windows, your neighbor's windows, your car, your dog, not to mention keep your pucks inside your ice rink so you don't have to go chasing them every time you practice or play.

It comes in a variety of sizes, colors and materials. You'll find lots of specifications and details at arena netting page.


Finish This Sentence Contest!
The folks in Alabama have their own sayings ...
You might be a redneck if you mow your lawn and find your missing Chevy truck...

We want to know: You might be a hockey fan if.... If what??

Up here where the sky turns into cold white powder for months of the year, we love our backyard ice rinks, skating under evening lights, and cheering the home team or favorite NHL hockey team. We bundle to the eyeballs in order to watch the kids skate in the worst of weather and cheer their victories or efforts.

And now, we're curious! How would YOU finish that sentence??

Can you come up with the appropriate, and/or obvious, punchline?

Send your replies to Info [at] mybackyardicerink[dot]com.

We'll publish them on the website. The winner will receive a 20' x 10' high-quality protective rink hockey netting, type NTR 3.500".


Opportunities for You to Share Pictures, Stories and Help
Like this e-newsletter?
There's lots of cool ways to share mybackyardicerink.com Ezine and mybackyardicerink.com with your friends!
Plus, click Google's +1 button.
Additionally, you can now leave Facebook comments for others to read at the bottom of each page!
Lastly, forward this email to your friends!
Happy skating from your friends at www.mybackyardicerink.com