Second Win-a-Rink Youtube Video Contest 2015-16!
mybackyardicerink.com Issue # 18 - August 2015
Second Win-a-Rink Video Contest!
Do you like the backyard ice rink in this picture? It could be yours...
Don't forget to enter our Second Win-a-Rink Video Contest! for your chance to win a rink like this! Information about contest in this Newsletter E-zine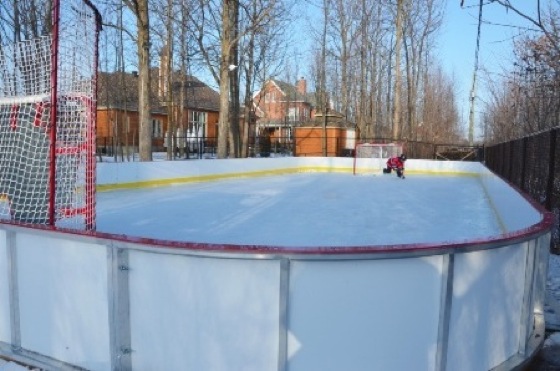 The 2015 - 2016 backyard ice rink season is finally here for many of us, and once again we are looking forward to helping you build an awesome rink in your own backyard.

Are you new to ice rink building? Click here to begin planning for a new backyard ice rink

Are you an old pro? You might like to check out the pages listed under the topic, "Backyard Rink Stuff", on the ice-blue home page navigation bar.

Whatever you do, I hope you have a lot of fun this winter!


We'd Love to See YOUR Rink!
How did your rink fare in past seasons?

You and your family have put in a lot of effort and creativity into your backyard rink. It's been a source of great pride.

How would you like to show it off to other members of our growing rink-building community? You can upload both photos and videos of your backyard ice rink at our rink community site. You can also post questions and join forum discussions with other rink builders.

We hope you and your family will enjoy participating at all levels!

Talking about participating, we're sweetening the deal for you...




mybackyardicerink.com's Second Win-a-Rink Video Contest!
For our new and regular members, mybackyardicerink.com will be hosting our Second Win-a-Rink Video Contest!

Here is a perfect chance to show off your ice rink and win serious prizes at the same time!

The contest will work like this:
First, you build a very cool backyard ice rink!
Next, make a attention-grabbing video where a) you show your rink off and b) you let us know how mybackyardicerink.com, community.mybackyardicerink.com and its community members helped you with the building your rink!.

You can walk us through the building process, or you can show us all this in a fun game of 3-on-3 hockey? - whatever you think will make an entertaining and memorable video.
Upload your video to both YouTube and to the mybackyaricerink.com Community website. (you must be a member - sign up here http://community.mybackyardicerink.com/
The deadline for submitting your video is MARCH 13, 2016
Entries will be judged by March 22, 2016.
We will notify the three winners shortly thereafter!

Who Wins?
The three most creative, original and artistic videos win. Most views and votes are not the main criteria. All submissions have an equal chance of winning, even those submitted on March 13, 2016!

Any Tips or Suggestions? Of course!...
Make an original, creative and artistic video!
The motto of the mybackyardicerink Community is "Help and be Helped!"
Use sound.

What's My Prize??
mybackyardicerink.com is offering 3 prizes:


First Place:  A complete, high-quality, 34' (width) x 42' (length) x 3-1/2' (height), NHL looking, outdoor hockey rink
Panels: High-density white plastic, type HDPE UV treated, .440" thick, 3-1/2ft in height, attached to the frame.
Framing: Aluminum (2" x 1" x 1/8" thick) with vertical beam
Mounting: Bracket system for support 20" x 10", with necessary concrete anchors included
Gate for players: 48" door with opening 30"x39" inches, with stainless steel hinge system
Handrail: High-density blue or red polyethylene, type HDPE UV treated
Protective kick plate: High-density yellow polyethylene, type UV treated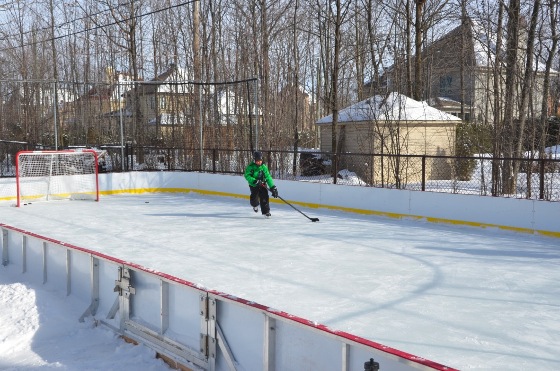 Second and Third Place: To be announced!

To Enter:
"Yes, I'd like to enter mybackyardicerink.com's Second Win-a-Rink Video Contest!"

You can enter two different ways:
Contact us via the Contact Form , OR...
Send us an email to info@mybackyardicerink.com directly and let us know:
Once we have your request to enter the contest, you have until March 13, 2016 to upload your video.

Easy!




is for anyone who loves winter and wants to create unforgettable moments by making an ice rink in your own backyard

Do you have hockey-ice running in your veins?

We'd love to hear from you.

Send us a picture, tell us your story, or drop us a line with your comments and questions.

Your Backyard Rink (https://www.mybackyardicerink.com/your-backyard-rink.html)
- for stories
Contact Us (https://www.mybackyardicerink.com/backyard-ice-rinks-contact.html)
- for questions and comments.

Thanks!


Opportunities for You to Share Pictures, Stories and Help or Be Helped
Like this e-newsletter?
There's lots of cool ways to share mybackyardicerink.com Ezine and mybackyardicerink.com with your friends!
Plus, click Google's +1 button.
Additionally, you can now leave Facebook comments for others to read at the bottom of each page!
Lastly, forward this email to your friends!
It's almost November- Happy winter from your friends at www.mybackyardicerink.com