mybackyardicerink.com Ezine Issue # 5 - February 2011
Canadian Pond Hockey
Canadian Pond Hockey Championship! Ice hockey on frozen bodies of water ... A great thing!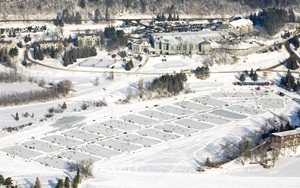 Says Walter Gretzky: "There's something special about playing on the pond - it takes you back to simpler times. There's a purity in playing outdoors in the elements. It's a place of dreams."
Trip to Huntsville for Canadian National Pond Hockey Championships Like Coming Home for Walter Gretzky


Last weekend, 1,700 players gathered at Canada's "largest outdoor pond hockey surface" in Huntsville, Ontario - all 6 acres of it.


As of the date of this ezine, the 2011 Canadian National Pond Hockey Championship competition is only half over. We do know that on January 30, 2011, the Men's Rec Winners of 2011 were Cobra Framing, who defeated Embers Hockey by a final score of 21 to 8! Bone up on Canadian National Pond Hockey news and keep tabs on the rest of the competition through the Canadian National Pond Hockey Championships Facebook page Canadian National Pond Hockey Championships Facebook page

U.S. Pond Hockey
Pond hockey tournament play in the USA was born in Minnesota 6 years ago. "Our goal is to celebrate the joy of hockey 'the way nature intended' each January...when time can stand still and we can all be kids for three days." Sounds like a crazy-fun time to us.

A glorious time was had by all those who trekked to Lake Nokomis, Minnesota for the weekend of January 21 - 23, 2011. And no one enjoyed their time better than the Whiskey Bandits, who outlasted the defending champs 9-8 in sudden death overtime.


Money? Bah...

US Pond Hockey Championship Highlights 2011
Check out 6 minutes of highlights from the US Pond Hockey Championship play - you can watch the winners, the Whiskey Bandits, dethrone last year's champions, the formidable Wright Homes Almost Forty who had won top honors 3 times out of the prior 5 years.




Hockey Goal Nets
A hockey goal net is a key accessory you must have if you want to play hockey on your backyard hockey rink.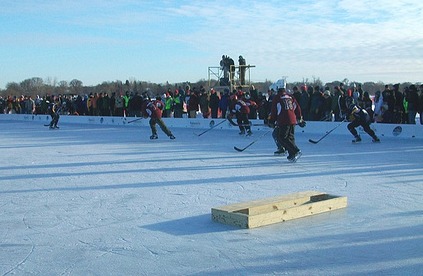 The picture shows the hockey goals used by the US Pond Hockey Championships. It is constructed out of 2x6's, with the front of the goal being occluded except for about 8 inches in each corner. These are goals that could easily be constructed by a handy DIY-er.


In reality, just about anything can be used for a pond hockey goal - your shoes, a branch, even a homemade PVC hockey frame. But, as the puck skips or flies past the "goal," how will you know if a goal was truly scored?

We think you might much better enjoy your backyard or pond hockey matches with real hockey goal nets
At mybackyardicerink.com, we offer excellent quality and reasonably priced steel hockey goals, from NHL and pro hockey goals to mini sizes. Feel free to come check them out at your leisure. If you're like us, you might consider getting two hockey goal nets - one for each end of your backyard ice rink.

mybackyardicerink.com COMMUNITY!
The weather is freezing but the conversation is flowing in our brand new mybackyardicerink.com Community! Come share your pictures and your knowledge!


Got a problem with your backyard rink? Our expert members love to share their expertise. If your question has not been asked, feel free to post your own situation. We're sure others can help you solve your problem. Here are just a few issues people are asking about right now and getting solutions to:

Exposed liners
Water under ice
Bubbles on ice
Cracks in the ice of the backyard rink

Do YOU have answers for others? Come join the community and help others get as much enjoyment out of their ice rinks as you do!

Like this e-newsletter?
Share My Backyard Ice Rink Ezine with your friends
https://www.mybackyardicerink.com/backyard-rink-magazine.html