My Backyard Ice Rink Issue # 11 - October 2011
The Schnozz Report
What's worse, taking a slapshot directly to the schnozz, or losing Game 7 of the postseason playoffs to the Boston Bruins, eventual winners of the Stanley Cup?

Steven Stamkos suffered both last winter. The first closed his right eye for a week and bloodied and mashed his nose. In fact, it is still tender.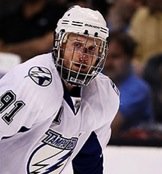 But the Game 7 postseason loss of the Tampa Bay Lightning to the eventual 2011 Stanley Cup winners might have been even more painful. So close! So very close to the finals!

The damage to his hopes and his pride drives Stamkos today, as he intends to be a factor in another playoff run, culminating this time...he hopes!...in his name on the side of the Stanley Cup.
Jim Boisvert:
Hockey Fan and Award-Winning
Backyard Hockey Rink Builder
The Glacial Crest Cardinals skate on Jim Boisvert's backyard hockey rink. They are the home team. They're also the away team.

This friendly gang of neighborhood buddies has hung out together on the ice for years, skating both for and against each other on "Glacial Crest" ice.

The camaraderie, and of course the amazing 120' x 65' rink complete with a score board and a full set of rink boards, earned the Boisverts the Best Backyard "Temporary Natural" Ice Rink of 2003 award, including a dream-come-true all day visit from Bobby Hull (pictured with the guys).

Hockey was a family sport in the Boisvert family. Jim got his start at age 5 on double-runners. Even as an adult, he and his father spent time skating together on this backyard ice rink. So it was a shock and a personal tragedy when Jim's father was diagnosed with cancer within months of this picture, and then died a very brief 9 months later.

The rink space lay dormant for several years. During this time an injury involving a table saw and a digit (now missing) sidelined Jim, due to the excruciating pain the bone-chilling winter cold triggered in the injured hand.

2010 marked the beginning of Jim's comeback to backyard ice hockey. He built an experimental rink, and found his hand had healed enough to not only play but to shoot pucks.

Jim's 2011 backyard ice rink will measure "just" 100' x 50'.
It's not quite the same in the neighborhood these days, Jim says. Most of the old gang have grown up, or moved away, or have other commitments.

But a new batch of neighborhood youngsters are showing keen interest in that flat slab of beckoning ice. Jim holds hockey seminars for these boys on weekends, teaching them the fundamentals of skating and playing hockey.

Welcome to a new generation of Glacial Crest Cardinals.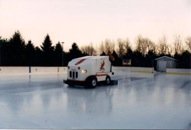 | | |
| --- | --- |
| | That's what hockey is all about. More power to you, Jim! And thanks for letting us share your story. |


Become a member of mybackyardicerink's Community -- you'll find Jim hanging around now and then, and happy to help you with your rink construction questions.

Backyard Hockey 2011 is HERE
Talking about rink boards, are you ready for Winter 2011??

Establishing the perimeter of your ice rink is definitely the first step. This can be done with 2x4's,2x6's,2x8's or even 2x10's, if you are not interested in full-size rink boards.

If hockey is in your blood, however, rink boards may be a necessity, at least at both ends of your hockey rink. They can be constructed of wood at home, or purchased ready-made. Either way, we can help you.

Follow our directions for building your own rink boards.

Not too handy? No problem. Store-bought rink boards are durable, look professional, and are ready-made and easy to set up. Purchasing your rink boards may be the quickest way to start playing hockey come wintery weather.

We can direct you to the reputable manufacturers and suppliers that we've worked with for years. Just give us a shout.

Shop mybackyardicerink! You'll find many of the backyard hockey rink necessities available right from mybackyardicerink, including 2 sizes of heavy duty rink brackets.


Opportunities for You to Share Pictures, Stories and Help
mybackyardicerin Community:
Join our community of backyard ice rink builders! Post your triumphant pictures, and get help with solving the problems you had with last winter's backyard ice rink. At the same time, you might be able to help someone else with their questions.

Already a member of the mybackyardicerink community??
Let others know where you live by clicking on myRink Location and adding your flag.


Your Backyard Rink:
Recount a favorite story, and post up to 4 related pictures.
Like this e-newsletter?
Let the world know about mybackyardicerink.com!
Additionally, you can now leave Facebook comments for others to read at the bottom of each page!
Lastly, forward this email to your friends!
Happy skating from your friends at www.mybackyardicerink.com