mybackyardicerink.com Issue # 12 - November 2011
'The Nuge' Report
You know you're on the way to greatness when you earn more than one nickname at the same time.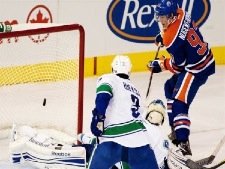 Ryan Nugent-Hopkins' name is a mouthful. Yet it gets mentioned so frequently in Edmonton (or attached to cuss-words in Vancouver, Washington, and Colorado), that he's collecting monikers..: first 'RNH' ... and now, "The Nuge."



(Picture is compliments of the Edmonton Journal.)



As in -- Fear Nuge.

Why? The dude is a rookie ... the leading scorer for the Oilers ... hat-tricked in his third ever NHL game ... has started just a handful of games in the NHL.

In 20 years, Number 93 will be seared into the psyches of defensemen across the NHL.

The big "news" today - and we use the word 'news' loosely - is that The Nuge will not be stepping out of his Oilers uniform any time soon. Yeah, we just couldn't envision the Oilers sending down the leading scorer of the team, who has 5 goals and 4 assists in 9 games. (His buddy Jordan Eberle has 2 goals and 7 assists in 9 games.)

Nugent-Hopkins' faceoff percentage has worried him. At 28.4% currently, it's the one area that he MUST improve upon, and we've no doubt he'll get it figured out quickly.

But he's got the intangibles down already, as seen in the fact that no one seems to manage a clean hit on him. States Craig Button, NHL network analyst as cited by Greg Wyshynski in Puck Daddy, "He's always moving the puck ahead of time and then he's moving past you because he's so quick."

Of COURSE he's staying in the NHL.

Read more here.

Build your own Ice Rink
Ice Rink Building Weather
This e-newsletter will give you tips and pointers, suggestions, tools, and material lists for building your backyard ice rink.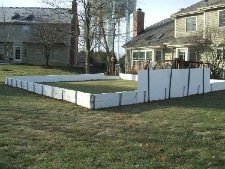 But first, here's what the next 10 days' WEATHER has to say about how much wiggle room remains in the rink-building schedule:

It's Prime Time in Yellowknife and Whitehorse, baby!

Highs in the farther north regions are well below freezing most of the time, with just a few days forecasted to be warmer than 32F (0C).

The folks in Anchorage, Alaska, are getting plenty of snow already, but the temperatures during the day may be too warm for ice-building...unless of course you've got a refrigerated rink. This means your backyard ice rink needs to be already up and waiting. No? It's not too late to get it knocked together. In another couple or so weeks, you may be slamming pucks into the net.

Most of Canada and the northern reaches of the continental USA still have a few weeks left before temperatures drop solidly into the sub-freezing range. Luckily, there might be a few ideal rink-building days in the week ahead, a bit of a warm snap, where you might roll up the sleeves and piece together that rink without getting too cold or wet.

Go for it!

Ice Rink Construction
mybackyardicerink.com is all about helping YOU build your own ice rink. Here are links to the pages where you will find all the information, tips, pointers, and suggestions for building your ice rink.

Build Your Own Ice Rink is a great place to start.


It will help you answer some important questions about the rink you wish to build, and then brainstorm all the ways you might choose to build a backyard ice rink. Plus, you'll find lots of links to additional information.

Your rink-building just got a lot easier!



Backyard Ice Rink Concept - Here's a page that lists the major methods of building an ice rink, including the refrigerated method.

Liner Method for Building a Backyard Ice Rink - Depending on your needs and preferences, you may wish to use a plastic rink liner or a plastic rink tarp for building your ice rink, and if so, this is the page you'll choose to navigate to.

Check out our Navigation Bar on the left of mybackyardicerink.com. Under these headings you'll find an amazing array of do-it-yourself ideas, info and pointers:
Plan Your Rink
Types of Rinks
Build Your Rink
Backyard Rink Stuff
This last category is where you'll find everything you'll need besides the actual rink-building itself.

Ice Rink Construction Materials
For the do-it-yourselfer, here's some good news. The tools and materials needed to build the frame of your backyard ice rink are standard-issue garage-variety tools and materials: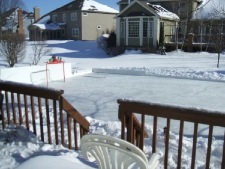 Hammers and screwdrivers (with battery pack if you've got 'em)
Nails and/or wood screws
Staple gun and staples (optional) for affixing the rink liner to the outside of the perimeter boards
4x8 plywood sheets
2x4 lumber, for constructing the rink board frames, and for building rink brackets
2x8 or 2x10 or 2x12 lumber. This is for constructing the rink perimeter, IF you don't include rink boards or brackets.
A long hose
Hose carousel, for winding the hose up, so you can move it where it won't freeze solid inbetween uses.
Optional - a hose coupler, so you can attach the hose to an inside faucet, for when you'd like to use hot water to finish the ice surface

So you want to get all fancy??
You can add a bit of paint to that ice, once you've got the first few inches frozen. Here's a diagram of a hockey rink, to guide your artistic side -- Hockey Rink Diagram

We'll share more on detailing, enhancing and accessorizing your backyard ice rink next month.

Opportunities for You to Share Pictures, Stories and Help
mybackyardicerin Community:
Join our community of backyard ice rink builders! Post your triumphant pictures, and get help with solving the problems you had with last winter's backyard ice rink. At the same time, you might be able to help someone else with their questions.

Already a member of the mybackyardicerink community??
Let others know where you live by clicking on myRink Location and adding your flag.


Your Backyard Rink:
Recount a favorite story, and post up to 4 related pictures.
Like this e-newsletter?
There's lots of cool ways to share mybackyardicerink.com with your friends!
Additionally, you can now leave Facebook comments for others to read at the bottom of each page!
Lastly, forward this email to your friends!
Happy skating from your friends at www.mybackyardicerink.com