Holiday Fun, Win a Rink Video Contest 2013 – 2014, Winter-Classic 2014 and more
My Backyard Ice Rink - December 2013
Holiday Fun!
Hockey greatness begins with dreams of greatness in seven- or eight-year-old children. The child clumsily flings the puck toward the net, practically dropping the stick in the process. But as the frozen season progresses, those pucks enter the goal with more and more frequency. The dreams become more real - of fans erupting in a frenzy as the future hockey star buries the puck in the net for an exciting overtime win.

Probably every single NHL player started with a dream. The truly great ones - Wayne Gretzky, Mario Lemieux, Sidney Crosby and many more – put in their homework, er, long hours of ice practice every single day that the backyard ice rink contained ice.

Backyard ice rinks can and do give birth to champions. But they also offer tremendous family fun during the winter, and especially during the school holidays while kids can skate all day for two weeks if they so wish!

And if your own child begins to spend every waking hour on the backyard rink that his mother will permit him, perhaps you're watching the birth of future destiny!

Wishing Everyone a Very Happy Holiday Season!

First skate of the 2013 - 2014 season for these youngsters. There may even be some dreams dancing in those heads!

Credit: mybackyardicerink community post: rinkNov282013, Added by My Backyard Ice Rink community member Daniel Robitaille on November 28, 2013 at 8:02pm


Win a Rink Video Contest 2013 - 2014
Well folks, the first ever Win-a-Rink Video Contest is in full swing .

What's the grand prize? This is...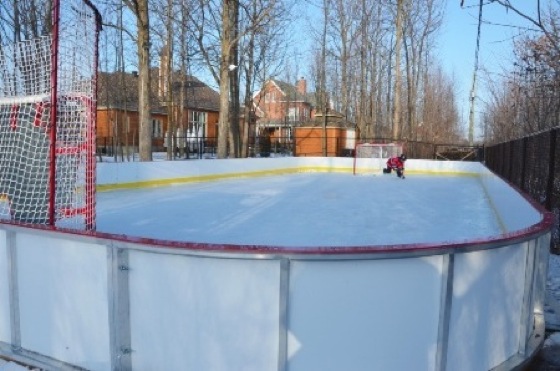 Wow, not too shabby!

Many intrepid backyard ice rink builders have submitted videos, and for now each has a awesome chance of winning an ice rink! The odds aren't too bad, so don;t forget to submit your own video!

We need to receive your entry and your video posted to YouTube and to the MyBackyardIcerink community by January 10, 2014. The complete rules are here .

Good luck!


Winter Classic 2014
The open-air-venue Winter Classic NHL hockey game is subject to the whims of nature, just like every backyard hockey player is. If it snows, it snows. If it's -20 below or windy, the players all have to deal with the game at its rawest. What a blast to watch in person!

On December 18th, the Redwings conducted their practice in the open air (Article from The Detroit News: December 18, 2013 at 10:10 pm Red Wings get taste of outdoors with practice at Comerica Park ) at a newly installed rink in Comerica Park, while fans stood around watching the practice for free. In fact, at least one fan, Brad Covert of Atlanta, Georgia, had made the 723.52 mile trip and was watching his favorite team do drills.

Practicing outside is an important part of preparing for the Winter Classic. The outdoor sessions help the players remember the challenges of bright sun, reflections off the snow, wind gusts, and the gamut of outdoor temperatures, that they routinely skated in as they honed their skills as teens. It must not have bothered them too much then - they're in the NHL, aren't they?!

On January 1 at 1 p.m. EST, the Winter Classic 2014 will pit the Detroit Red Wings against the Toronto Maple Leafs. Michigan Stadium in Ann Arbor, Michigan is the location. Click here for lots more information ( Winter Classic 2014 Event )

Get a sneak peak at each goalie's helmet, especially designed for this game:

Redwings goalie mask http://www.cbssports.com/nhl/eye-on-hockey/24379787/photo-jonas-gustavssons-has-his-mask-for-the-winter-classic

Maple Leafs goalie mask http://www.cbssports.com/nhl/eye-on-hockey/24375037/photo-jonathan-berniers-winter-classic-mask-honors-pond-hockey


Portable Refrigerated Ice Hockey Rink
If you've been considering the purchase of a portable refrigerated ice hockey rink, we'd like to remind you that we've offering an excellent portable ice hockey rink that includes refrigeration.
The portable rink measures 46x28 (24.02 metrs x 8.53 meters)
The design is extremely aesthetic and robust
It functions at higher ambient temperatures
It is constructed from high-end components
This portable 46x28 refrigerated ice hockey rink package is significantly discounted. Get the full description and details here

Rink Boards
It could be that rink boards would double, triple or quadruple your actual skate time, and your ability to fully enjoy your backyard ice rink. Rink boards keep both you, your kids, and the pucks inside the rink, so you aren't skating for 10 minutes, and then chasing and finding pucks for the next 20.

If you're handy, you could make your own rink boards

Not handy? There are many types of rink boards on the market. We offer rink board components that are of high quality, will last for many years, and which are aesthetically pleasing. We're very confident in the quality we can offer our visitors and members:
Choose materials from several options: wood, fiberglass, or high-density plastic
Doors and gates of high-density plastic and aluminum
White, UV resistant
If you're ready for excellent rink boards, that will last you a lifetime in any extreme condition, visit our the mybackyardicerink.com Online Store at: http://shop.mybackyardicerink.com


mybackyardicerink.com
is for anyone who loves winter and wants to create unforgettable moments by making an ice rink in your own backyard



Do you have hockey-ice running in your veins?

We'd love to hear from you.

Send us a picture, tell us your story, or drop us a line with your comments and questions.

Your Backyard Rink (https://www.mybackyardicerink.com/your-backyard-rink.html)
- for stories
Contact Us (https://www.mybackyardicerink.com/backyard-ice-rinks-contact.html)
- for questions and comments.

Thanks!


Opportunities for You to Share Pictures, Stories and Help or Be Helped
Like this e-newsletter?
There's lots of cool ways to share mybackyardicerink.com Ezine and mybackyardicerink.com with your friends!
Plus, click Google's +1 button.
Additionally, you can now leave Facebook comments for others to read at the bottom of each page!
Lastly, forward this email to your friends!
It's almost November- Happy winter from your friends at www.mybackyardicerink.com