Backyard Rink Builder:
Beginner's Luck
by Chris Engle
(Clinton, NEW YORK, USA)
In 2008, one of my hockey buddies invited us over to skate on his backyard rink. Bob Nelson had an awesome backyard rink set up. His rink was 64' x 32' and it took up his entire backyard! It had lights, painted boards, goals, etc... The kids had a blast & they skated until they dropped.
Everyone was firing questions at Bob about the cost, time, energy, etc... I was taking a lot of mental notes & then I spent the rest of the year grilling him on the set up, installation & tips. His most important tip was to make sure the lawn was level.
I was committed to do a rink the following season. Before I started the process, I wanted to be sure my lawn was level. I thought it was fairly level w/ a few high spots. I had another hockey parent, Patrick Conway come over to shoot it w/ his laser level (which he claims: "does not lie").
Patrick's son John, is on the same team as my oldest son Cale. Patrick assured me that he could make it level in no time. I was not prepared for what happened next. He stopped by after work w/ his CAT Dozer w/ a 10' blade on it. In about 1 hour, he had by yard level! My only thought was: my wife is going to kill me. (see photo of the dirt!) There was no turning back now.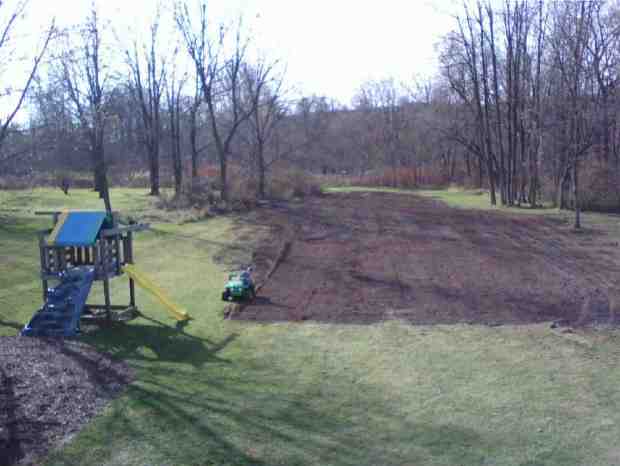 Once the lawn was level, I just had to frame it up. I used some old lumber I kept from our old deck. I bought a 40'x 100' sheet of 6mil plastic. Patrick also volunteered his 3" submersible pump and 200' of hose. We filled the rink using water from the Oriskany Creek that runs through our backyard. As it turned out, we had a 3 day cold snap & the rink was frozen solid for 2 1/2 months!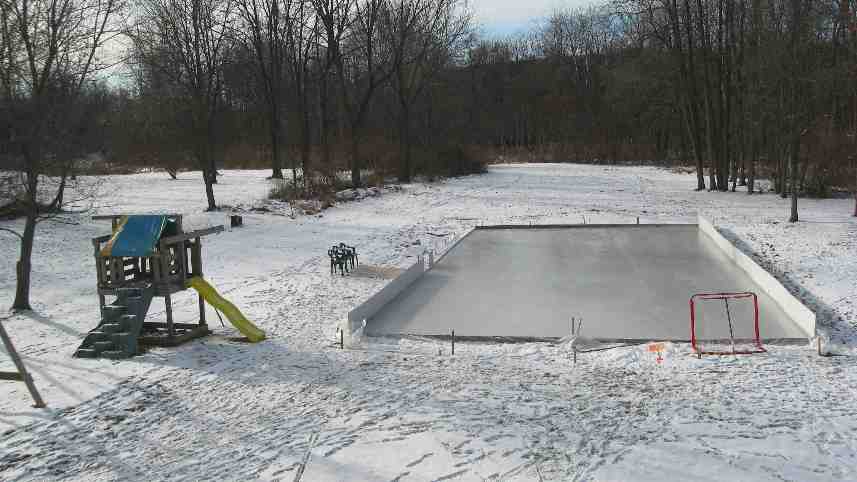 Bob could not believe it...it was a perfect year for backyard rinks. It was below freezing all winter and the snowfall was manageable. He told me all of the horror stories about shoveling, snow blowing, rain, slush, etc... We certainly lucked out in 2009.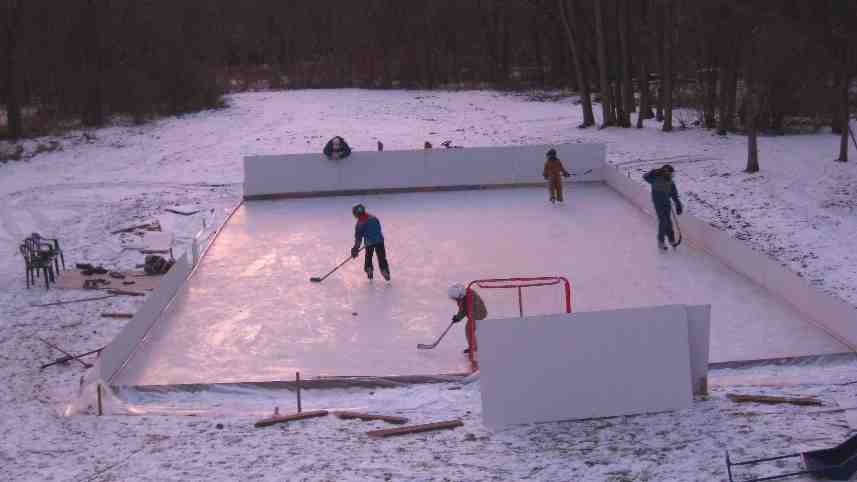 First Skate on Our Backyard Ice Rink
Over the past 3 winters, my 3 boys have had a blast on the rink. We usually invite their teams over to skate as well. Cale is a Peewee, Cam is a Squirt and Caden is a Mite. We nicknamed our rink the 6'c rink. Cale, Cam, Caden, Chris (me),Conway & Conway.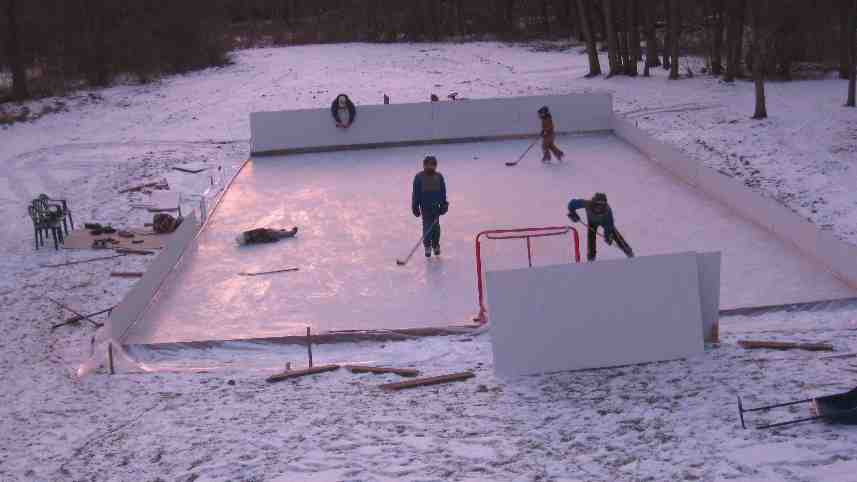 Oh & for the record, my rink is 72' x 38' ... bigger than Nelson's!


Join in and write your own page! It's easy to do. How?
Simply click here to return to Your Backyard Rink Story.
Free Periodical mybackyardicerink
Online Rink Magazine (E-zine)

Please subscribe to my online rink magazine, mybackyardicerink.
Keep up to date with the latest information on My Backyard Ice Rink!

Like mybackyardicerink.com?
New!

Comments

people have commented on this site so far...