Central Ohio Rink on a Sloped Backyard
by Eric Holmes
(Worthington, OHIO, USA)
Even though I've been told not to try this (building on a slope and as far south as Central Ohio), this is my 4th year with a backyard rink and I'm certain that I'll keep doing this as long as I'm still physically able to do it. These are pictures from the 3rd year of our rink (2011) which was a terrible year with record high temps, unfortunately - proving the naysayers correct, for at least one year.
My 2 year old originally started me on the idea of a backyard rink after watching a live hockey game and saying that he wanted to play hockey, too. So, on a particularly cold day, with just some left over construction materials - 2 x 12's, rebar stakes, a big sheet of plastic and a hose, we soon had a 30' x 20' rink!
It wasn't long after that when neighbors and all the little kids all started coming over to try it out and it's been the best thing we've ever done to make new friends in the neighborhood!

I've learned a LOT from my original mistakes, but each year I figure out more secrets and can't fight the urge to add some additional tweaks, bells and whistles every year, too - but that's half the fun. Among my favorite improvements have been:
yellow puck board to line the lower 7" (REALLY makes the puck fly around the corners and makes it easier to clean the ice next to the boards)
mostly decorative lights around the perimeter of the rink (adds only a little bit of light, but really looks nice according to the neighbors as it reflects off of the ice)
ramp with door to get onto the ice so newbie's can get on the ice easier
combo bench and stick holder
junior sized goals (for a junior sized rink)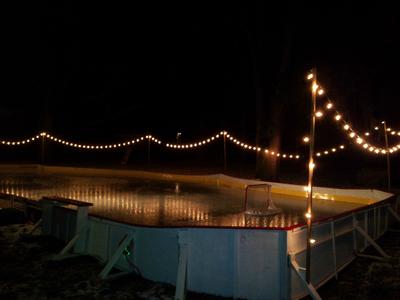 Now it's about 76 feet long and 35 feet wide, snakes around a huge tree, is uniquely shaped to match the contour of the slope of our yard (sort of the shape of a big SUV from the side), slopes at least 22" from one end to the other and is only about 3' from the back of the house (and all the windows!).
I think the next investment will be protective netting for the windows and for pucks on the ends. Right now, most of the kids can't lift the puck, but I'm sure that day will be here soon enough!
Join in and write your own page! It's easy to do. How?
Simply click here to return to Your Backyard Rink Story.
Free Periodical mybackyardicerink
Online Rink Magazine (E-zine)

Please subscribe to my online rink magazine, mybackyardicerink.
Keep up to date with the latest information on My Backyard Ice Rink!

Like mybackyardicerink.com?
New!

Comments

people have commented on this site so far...